L.E.D. Dance Floor Hire: www.dancefloor4weddings.co.uk

Elegant Draping for your venue: http://www.elegantdraping.co.uk
Gardenia Wedding Cars http://www.gardeniaweddingcars.com
Chauffeur driven wedding car services provided in Cheshire, Greater Manchester and Staffordshire areas. Our timeless classic 1930's style Beauford wedding car will ensure a perfect start to your day
My Wedding Fireworks http://www.myweddingfireworks.com
Professional wedding firework display and pyro musical company based in Cheshire. My wedding fireworks has been providing professional wedding firework displays for over 15 years.
Professional Wedding Photography - www.andrewcollierphotography.co.uk
Call Andrew on 01925 471091 or 07989 471926 for contempory portraits and Wedding portraits - Friendly Service by Andrew and vastlly experienced. email: mailto:info@andrewcollierphotography.co.uk
Mcan Photography - Stephen Johnson Wedding Photographer, Liverpool Merseyside
Tel: 07943956129
Webite: www.mcanphotography.com
The Wedding Suite - Wedding Stationary, tiara's, jewellery etc.
Tel: 07943 943316
Website: www.theweddingsuiteliverpool.co.uk
Alan Crosbie - Professional video production
WEBSITE: WWW.VIDOME.CO.UK
Tel: 01744 611261
Find AA Decorative Events on www.djformywedding.co.uk - Professional Wedding DJ Hire & Corporate DJs

Wedding Suppliers In Liverpool: I have a Liverpool Wedding Venue Styling listing on there! - Click on Liverpool Wedding Venue Styling...
We are proud to be working with www.theweddingguideuk.com - Our New Advert will be in the Wedding Guide Book and on-line this year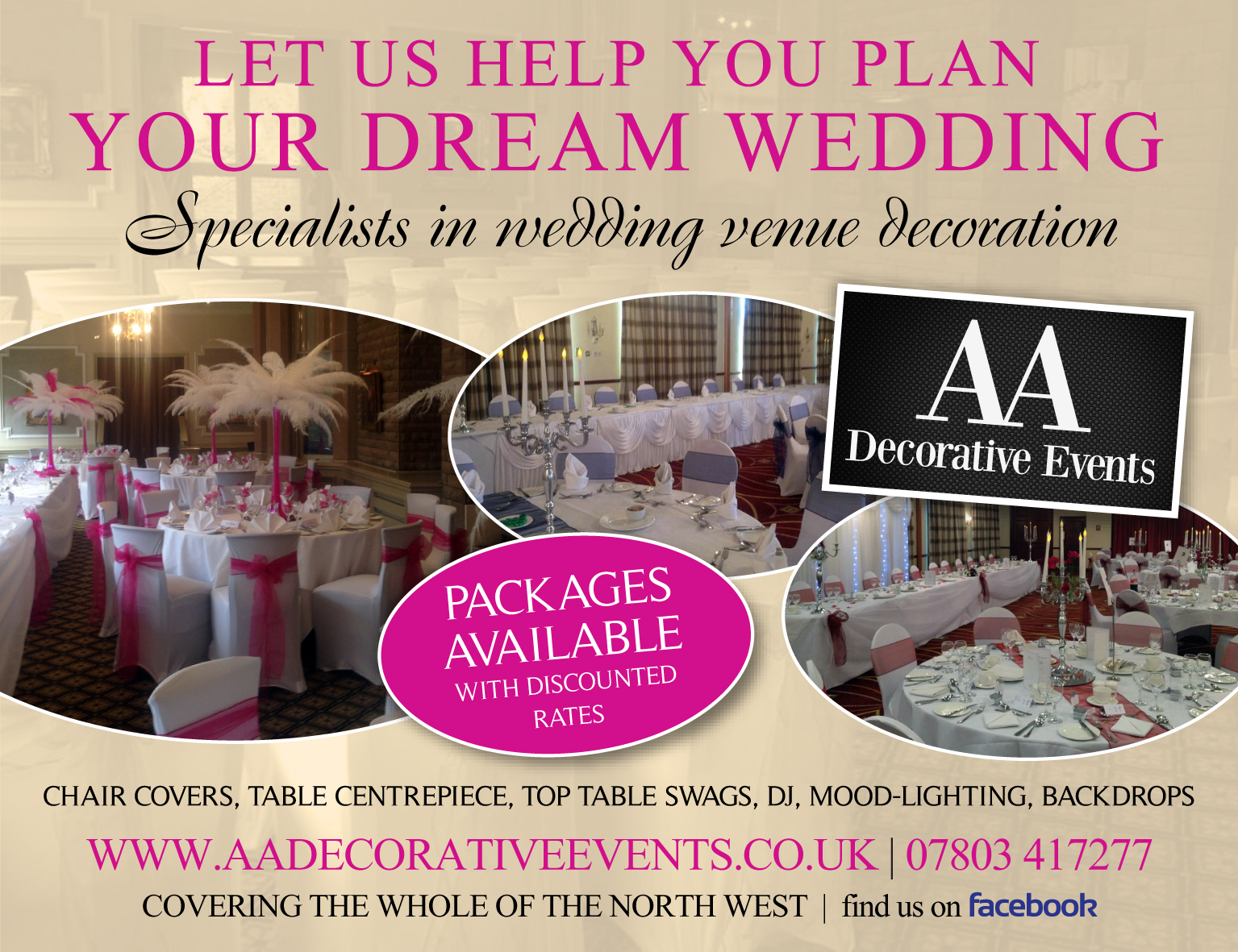 Our latest partnership: We have teamed up with Crosby Hall to provide Wedding DJ's for all events at this venue during 2014
If you are a Hotel, a bespoke Wedding Venue and are looking for a reliable and established venue dressing and Wedding Disco supplier, please contact Alex or Alison on 07803 417277 or 07912 965107.