Look at our facebook page for up to date feedback and all 5 Star Ratings!
Hi Alex
Would like to thank you for all your hard work this weekend setting up our room for the wedding ceremony and then for coming back to set up for the wedding breakfast. Joanne and I thought the room looked amazing and all the little touches you added finished the room off nicely. So many of our guest have commented on how nice the day was and how beautiful the room looked. We would highly recommend you to everyone. Thank you again.
Luke and Jo
Picture on the right hand side - we were working at The Crowne Plaza Hotel, liverpool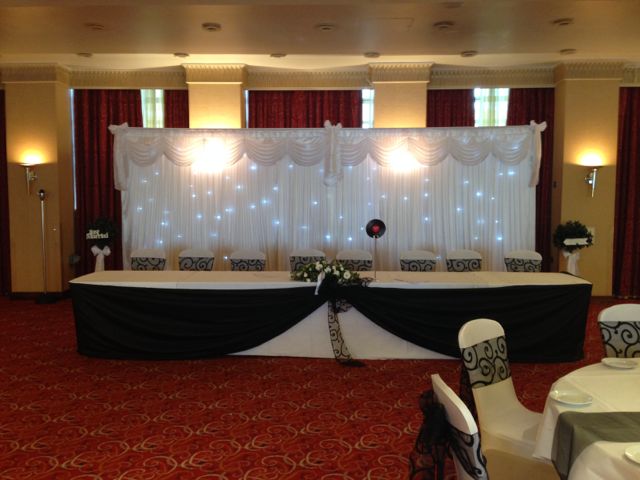 West Lancs Golf Club - December 2011
Hi Alison & James, it's Cian here, thanks for your e-mail asking for feedback, my wife thought the whole evening was a joy. The decoration you provided was spot on and you kept it simple but effective, just what we asked for. The DJ did a fantastic job, from the moment he played his first song had all the bridesmaid's and children dancing. The first dance was unike and all the guest commented on mainly my dancing! but said the DJ was great, played all the songs we wanted and the 80's mix was top notch - just up my street. So glad we got the package with you, it saved time having to book a disco, lights, and all that! Good price, especially as you gave us the DJ for half price - I was impressed! Great value for money, thanks Again Cian & Bev
Thornton Hall, November 2011
Hi Alex, thanks for your e-mail about the disco you provided for our wedding, and the decoration which looked fab when we walked into the room for our ceromony and then into the main room for our evening reception. Everything was just as I had dreamed and imagined - perfect. I don't know what else to say but Thank You
Hayley x
Feedback from a sample of our satisfied customers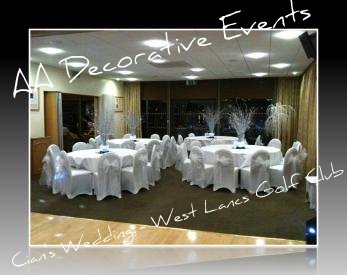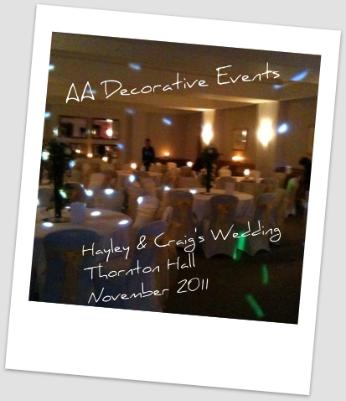 Inglewood Manor - Feb 2012
Hi Alison, quick e-mail to thank you so much for the decoration you provided for our Wedding on 17th Feb in Inglewood Manor.
The chairs and the centre piece bird cages you provided just look amazing! Everyone commented on the room, especially as the "Oak Room" had lots of dark oak, the covers and candles looked amazing. The price which included the DJ "Alex" was really good and the discount saving of over £100 was fantastic. Please pass on our thanks to Alex and his disco company, he did a fantastic job, sorry we did not thank him in person at the end, but all our guests comments on how good he was at announcing the first dance, and he played every music request, I really enjoyed myself and had a superb wedding day and night. Would recommed to anyone who asks, Thanks Claire & Andrew