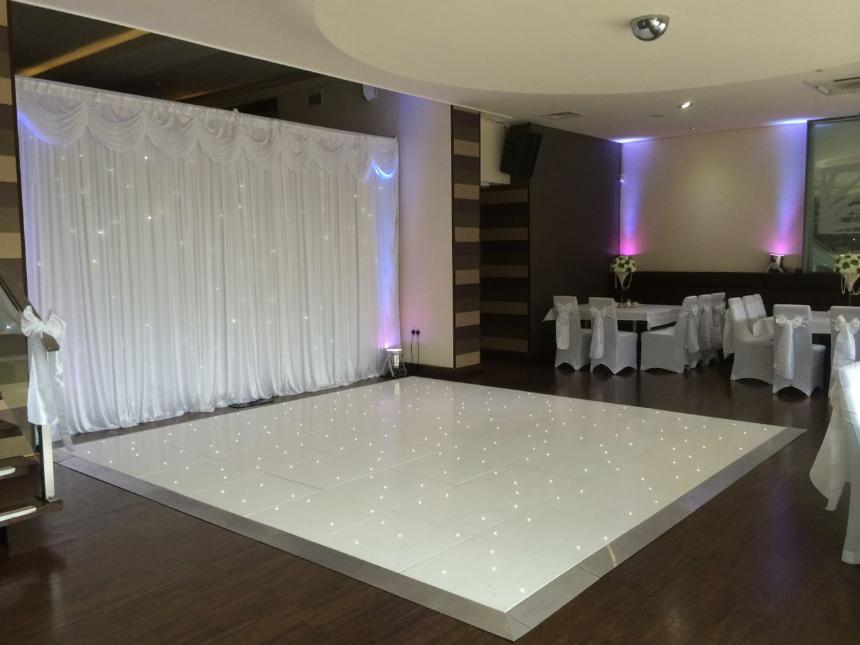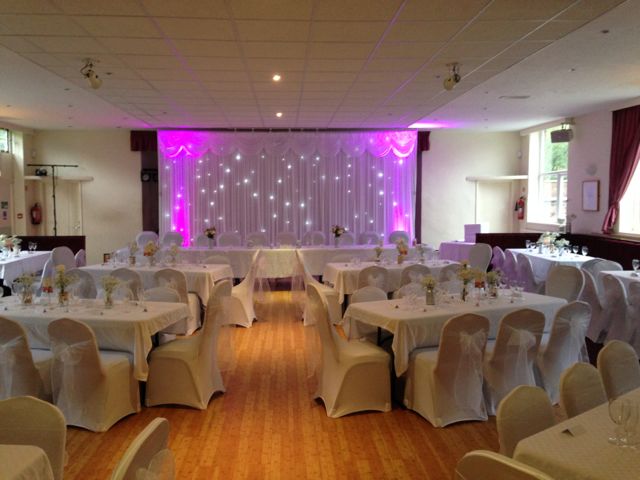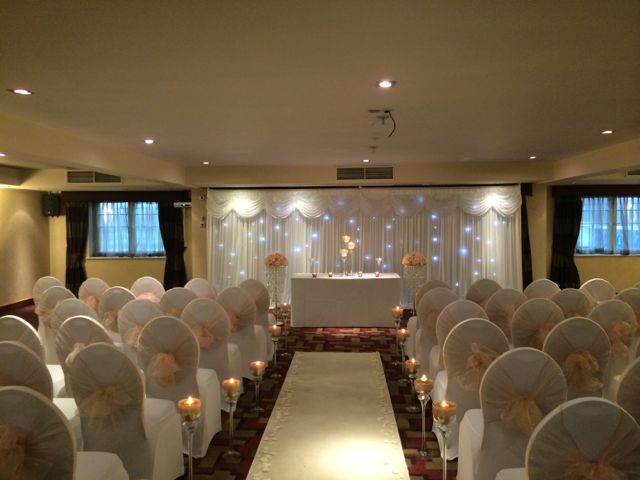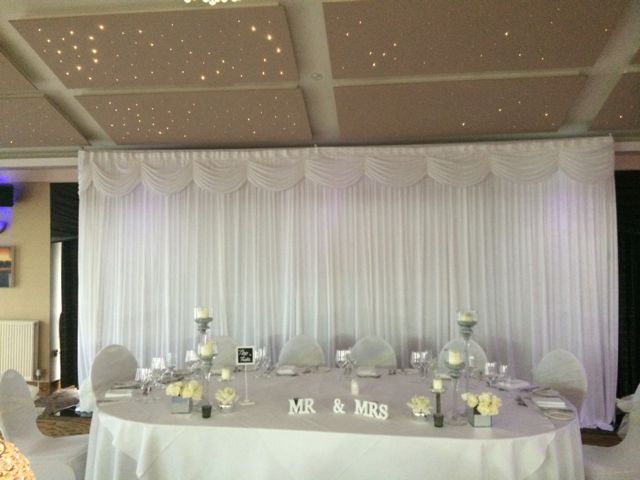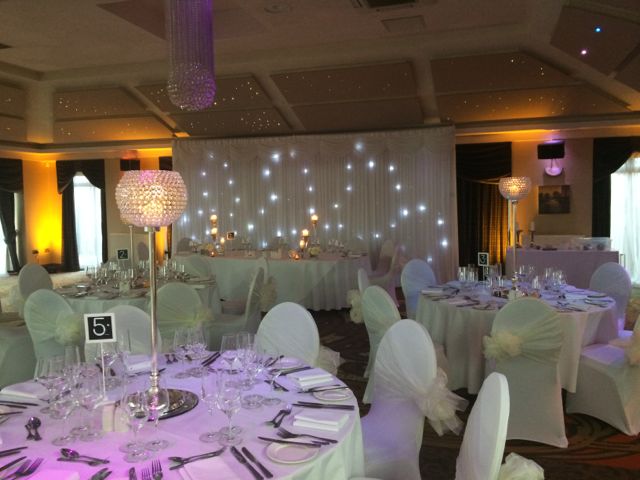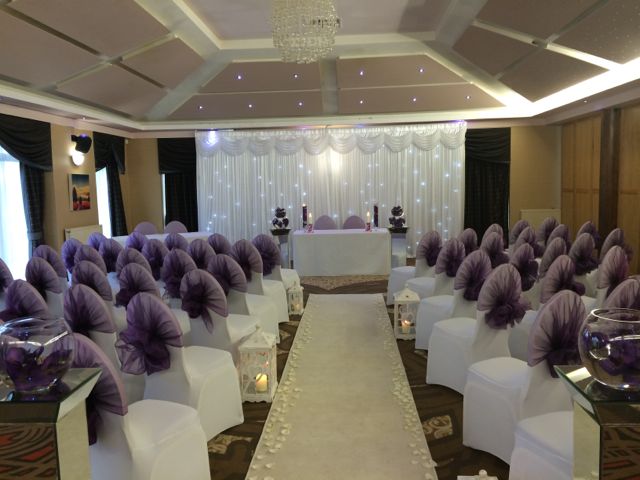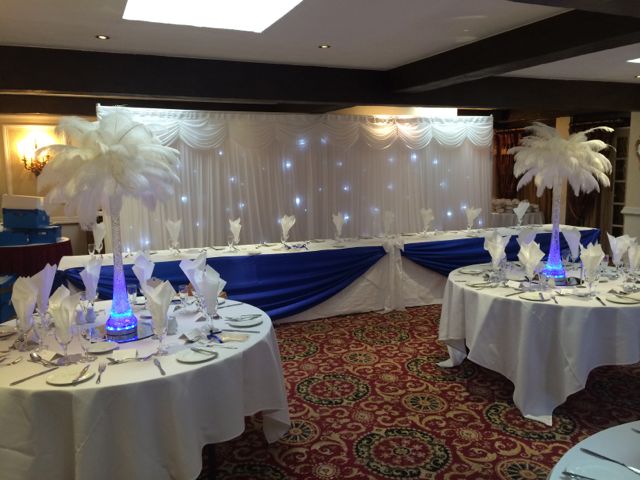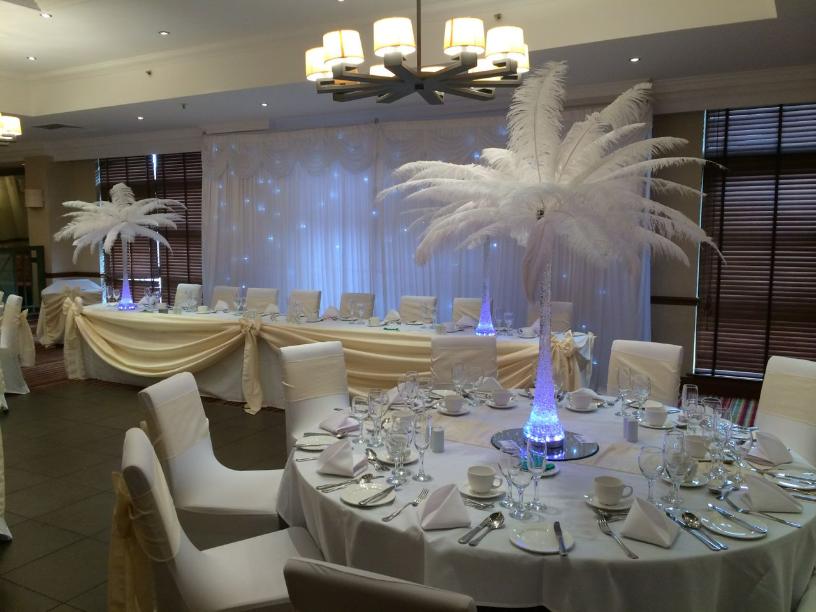 The White Backdrop is available to hire individually for the day with or without L.E.D. twinkle lights. The backdrop L.E.D. lights are bright white and can be set to either static or changing, bringing a touch of class to your Wedding Day. The backdrop normally sits behind the head table for the most effect when you walk in the room and can be re-located in the evening if required.
We can also provide up-lighting effects to further enhance the drape, we can have an uplighter either side of the backdrop, as seen in the photograph below to further enhance the ambience of the feature in the room - Looks stunning when the lights are dipped!
We have recently invested in additional wedding backdrops and can provide a lovely silk backdrop as per picture below. We can also provide a Black Starcloth backdrop for your event, which is 6m x 3m and can be installed on a stage or stand alone. Please call for availability
We have more and new options for your backdrop:
Backdrop with static curtain lights either in soft glow or pure white static lights - Price from £150 (A travel cost may apply dependant on distance) no more than £25
Backdrop with professional White L.E.D. star-cloth (White Slow flashing lights in random order (Also known as twinkle effect (can be changed to static or sound to light, patterned via a DMX Controller.) This backdrop is a professionally built and is our best one we offer, it is fire retardant and PAT Tested - Price £150
Backdrop - Black backdrop with pure white lights - 6m x 3m on a truss stand for band's, events, or weddings - Price £150
8ft / 10fr x 8ft / 10ft Backdrop - Limited with space, we can reduce the size of the backdrop to 10ft or 8ft wide - Price only £120
We can also offer you a 40ft Backdrop for your wedding - we would provide 2 x 20ft backdrops but these will be linked and no spaces - Price £250
Need more than one l.e.d. backdrop for your wedding? We can offer you a discounted rate if you require more area to be covered - please call
Our backdrops are up to 10ft tall (3M) and we can reduce the width but the maximum width of a standard top table backdrop is 20ft (6m) - Should you require more area to be covered we can provide more than one wedding backdrop for your event or wedding, and this will be matching silk frontage with white lighting. You can opt for the backdrop without the lighting should you wish.
We can drape your room in our pure white silk fabric draping, this is currently £15 per meter and price is agreed upon measuring up the venue.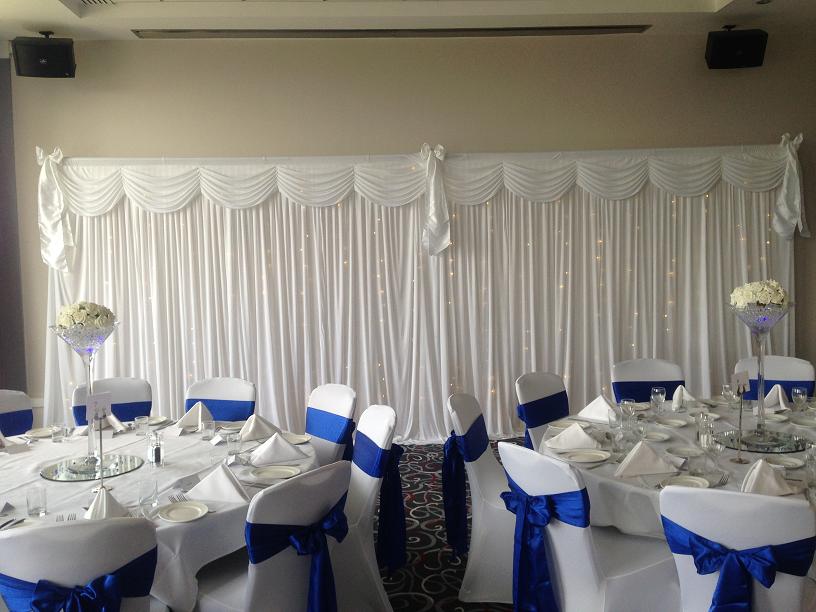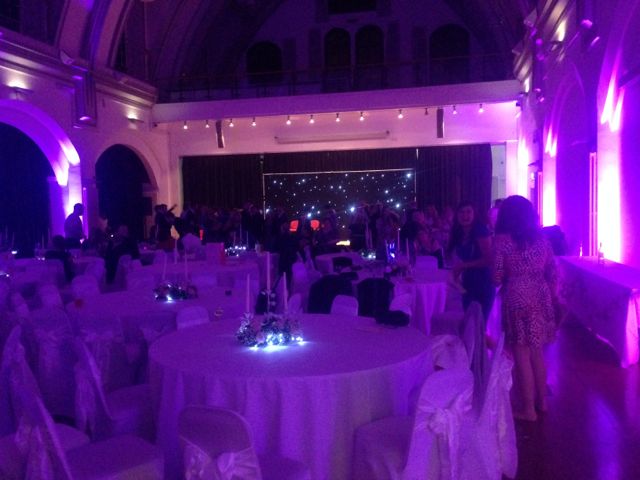 Need to drape your venue, with elegant draping with or without LED Twinkle Lights, check out one of our partners on: www.elegantdraping.co.uk
The Price to hire the backdrop as a single item:
White Backdrop with white L.E.D. twinkle lights £150 (Standard Full Size 20ft length by 10ft height - we can adjust the height to 6ft if required

White Backdrop with white L.E.D. twinkle lights and an uplighter either side of the backdrop £170

We can cover a whole wall with a twinkle backdrop and price is dependant on size, for example a 40ft run we can provide for £250

Professional DMX Conrolled White Star-Cloth with White Silk drapes over the front and top swgas to finish off.

We do not provide a cheap alternative with curtaon voil and christmas lights - these are not what we do and look un-professional
The Backdrop Hire price is only for the duration of the agreed times set out in the hire agreement. We will dismantal the backdrop on the evening of your Wedding, usually no later than 1:00am
The White Backdrop is fire proof and passed all health and safety checks, the L.E.D. lights are P.A.T. Tested for safety.
if you are booking the backdrop as a stanalone item, we may charge a small delivery fee, dependant on travel distance, usually no more than £25 - We will confirm this when you call or advise us of the venue and we can work out the distance. We will leave the backdrop set up for as long as you want on the day and remove either the same night or the following morning.
A £50 Deposit is required to secure the booking and wil be set up by AA Decorative Events, and removed either at the end of the night when our function has ended or the following morning - This will depend on the Hotel / Venue arrangements.
Any damage to the Backdrop, your refund willl be non refundable, should the damage exceed £50 worth, the customer who hired the backdrop will be responsible to these costs depending on the scenario and damage occured.
We can also supply a Wedding Backdrop in Black with white L.E.D.s this comes without swags and is popular with the Wedding Disco Hire we offer, as an alternative to a plain setting behind the DJ or stage. Please call for prices and sizes we can offer - Currently the black starc-loth l.e.d. backdrop is 6m x 3m in size
Tag Lines:
Wedding Backdrop Hire Liverpool, Wedding Backdrop Hire Chester, Wedding Backdrop Hire Cheshire, Need to hire a White Backdrop for my Wedding, Wedding Backdrop Southport, Wedding Backdrop Hire Merseyside, Wedding Backdrop Hire Aintree, Wedding Backdrop Hire Warrington, White Backdrop for behind the Top Table, Wedding Back Drop Hire with twinkle lights, Wedding Backdrop Hire, Merseyside, Cheshire, Lancashire, Wirral, Cumbria, Preston, Ormskirk, Southport, Liverpool, Mnachester, Rochdale, Accrington, Macclesfield, Burnley, Bolton, North West